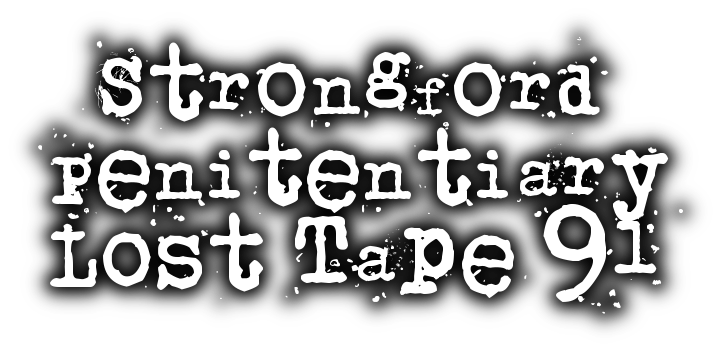 Strongford Penitentiary Lost Tape 91
A downloadable game for Windows
⚫Strongford Penitentiary, a former residence for the criminally insane and mentally deranged, active for over 50 years the premise housed the countries most dangerous inmates. Explore the decrepit building and use your camera to unfold the gruesome past events and history.
⚫Strongford Penitentiary Lost Tape 91 is a realistic urban exploration VHS Found Footage horror and the first entry in "The Lost Tapes" Series.
Key Features⚫Utilize your camera mechanics including sepia cam mode, limited blitz mechanic and B/W Spirit cam mode allowing you to see a unseen world, uncover the story of by discovering the past events through your camera.

⚫Features 3 possible endings
Trailer
⚫First entry in "The Lost Tapes" Series.
⚫Previous series "Incident Tape" Series - 4 titles:
Each tape features unique places and new stories. Each can be played individually and some contain connections between them.
⚫This is a experimental horror title, featuring non-linear exploration with no hand-holding asking you to explore everywhere as the aim of the game was to produce a realistic urbex feeling. The game changes the longer you play & evolves accordingly, what ending you get is determined by your own actions later on. The game provides full freedom for the player, the game is intended to be played in a single session each time to unlock the different endings. Many elements of the game are randomized causing each play through to be a unique experience.
⚫Features
Realistic urban exploration feeling
B/W camera mode to unveil secrets and the past
Sepia camera mode
Limited blitz mechanic
Environmental Puzzles
Realistic audio design
No hand holding, non-linear exploration
3 possible endings
Randomized audio design and events
⚫Controls
Movement = WASD
RUN = Left shift
CROUCH = Left ctrl CRAWL = C
EXAMINE NEWSPAPER / OBJECT = Q READ = E
ZOOM WITH CAMERA = Right mouse button
CAMERA B/W MODE = F
LIMITED CAMERA FLASH BLITZ = G
SEPIA CAMERA MODE = R = Activate | T = deactivate
INTERACT = Press E
HIDE IN LOCKER = E
Best played in 1920x1080 resolution
You can adjust quality settings inside the game through ESC > Options
You can view / edit controls inside the game through ESC > Controls
The game only supports Keyboard&Mouse .
WARNING: This game contains gore as well as flashing lights etc. which could trigger a seizure in some, play at your own risk.
Minimum:

Requires a 64-bit processor and operating system
OS: Windows 7,8,8.1,10
Processor: Intel i5
Memory: 8000 MB RAM
Graphics: Nvidia GeForce GT 1030
DirectX: Version 11
Storage: 6 GB available space
Sound Card: Standard
Recommended:
Requires a 64-bit processor and operating system
OS: Windows 7,8,8.1,10
Processor: Intel i7
Memory: 16000 MB RAM
Graphics: Nvidia Geforce GTX 960
DirectX: Version 11
Storage: 10 GB available space
Sound Card: Standard
Thanks for your purchase and for your support, hope you enjoy playing this tape!
Purchase
In order to download this game you must purchase it at or above the minimum price of $2.09 USD. You will get access to the following files:
Strongford Penitentiary Lost Tape 91 Full Game.zip
2 GB
Comments
Log in with itch.io to leave a comment.
Thanks for your support awesome!
This one's really good! Probably my favorite one so far. It was creepy as hell being in that prison. I can't wait to see where we go next!
Thanks for your play through as always man, glad you enjoyed this one! If you haven't checkout the teaser trailer for the next one in the series!

Creepy as hell, highly recommend. Love the audio design.
Here's a walkthrough!
Big thanks to Slashercinema! All Endings & Complete walkhrough!
Really nice playthrough kinda funny what ending you got considering what you said during the library sequence haha. ( btw there was a hint there on a paper piece on the shelf ). Cheers thanks for playing and hope you enjoy getting the other endings!
Need some help: I cant find the key to cell 7? Someone has a hint for me?
Thanks a lot! Really great game. I am new in the found footage scene. This will not be my last game.
Thanks! Glad you enjoy it. I'm a big fan of found footage and with these particular series my main focus is Urbex / Urban Exploration.
The previous "Incident Tape Series" is available if you're interested in more and I'm currently running a 25% off sale on a bundle with them all!
Bundle: https://itch.io/s/77191/exclusive-bundle-to-celebrate-upcoming-the-lost-tapes-se...
VHS Urbex Found Footage "Incident" Tape Series - 4 titles:
Thanks! I want to buy the bundle, but there is a PayPal Error: Failed to create PayPal payment (400)
Can you help here?
I would either try again later or try open incognito window in chrome browser and pay that way, check your paypal acc / contact them or alternatively try buy the bundle using credit card. Unfortunately I can't do much more from my side since it depends on where the issue lies.